Note: We don't pay for reviews or testimonials, which may adversely affect our rating in some online fitness software reviews. Our products have received top ratings from every professional, uncompensated reviewer for 15 years.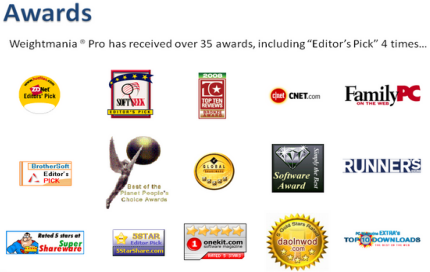 From over 3,500 fitness and nutrition applications on the market, Weightmania Pro earned "Editor's Pick" 4 times. See our
Awards
page.
---

"Weightmania offers a lot bang for your buck...it allows you to track every aspect of your workouts from pace and distance to water intake and cadence. You can also track meals, general medical info and you can even upload pictures of yourself. The best thing about this updated version are the calculators including body fat, BMI, BMR, calories and more. A great investment!"



Paige Waehner
About.com Exercise Guide
Certified Personal Trainer and Fitness Author
---

"Weightmania Professional's interface is jam-packed with tools...We are particularly impressed with its nutrition search; just enter a food and a list of matches from its database detailing the item's calories, sugars, vitamins, and nutrients is given. Fitness buffs will appreciate this program's elaborate approach for maintaining a healthy lifestyle."




CNET Software Editor
Health and Nutrition Software Review
---

"I spend more time on the computer than I do on the roads, so I've seen plenty of training sites and sampled far too many software packages. Most of them are either exercise logs, with nutrition as one of several features, or nutrition-based, with an exercise log added on...I like the Weightmania package which offers the best balance of exercise and nutrition..."



Runner's World Magazine
Fitness Gear Reviewer

---

"Weightmania is serious software and earns 'TopTenREVIEWS' Silver Award...Weightmania is a sophisticated fitness program including modules to track exercise and nutrition in great detail, the keys to fitness success...Weightmania is easy to use. Each module reflects the same design. Color coding is effectively used to differentiate exercise and diet information...Weightmania has more calculators than any other program, e.g. Calories Burned, Calories Required, Distance/Time/Pace/Speed, Splits..."









TopTenREVIEWS – Ranked one of the top 3 fitness apps for ten years
Note: There are more than 3,500 fitness apps on the market today.
---

"Weightmania is more than just a training log, it is a complete lifestyle log allowing you to record not only your activities but also every single calorie, gram of fat, carbohydrate and anything else you eat...It really does have it all, including a huge database of food types with their typical nutritional values. It also has tools such as body fat calculators, BMI calculators, BRM calculators and many more, and even goes as far as having recipe managers and grocery lists. For those of you who want to record and manage your entire lifestyle this tool does it all...The Mac version has a nice modern interface."

Mac Training Software Review
www.alananna.co.uk


---

"Weightmania is a tracking wizard!!

I looked at a lot of different options that track workouts and also track nutrition, etc. I purchased a different program (workoutware) and after inputting all the necessary data, the output was unsatisfactory. I returned it and then bought this program.

I have to say that this program is outstanding! It not only tracks all different types of workouts, it also will track meals/nutrition, measurements, medical and general information. There is a USDA food database that is included and inputting any additional foods was really easy!

There are also options to create custom workouts and food plans for those of us that usually eat the same thing in the morning. Another great thing about this program is that you can cut and paste things from one page to another. I took certain workouts and cut and pasted them to another day and changed certain info. It worked like a charm!

I recommend this product to anyone that is looking to not only track their workouts, nutrition, body mass, etc, but also to those people that are just starting out exercising or watching what they eat. If I would of had this when I started to workout, I could of tracked different aspect of my overall plan and then seen the results and what trouble areas that I have to work on.

Now after inputting my info in this software (no more than a few minutes after each meal or workout) I can "see" what I am doing and how it looks over days/weeks/months.

I also emailed the technical support on a question and had a reply back within 24 hours. They were friendly and answered all questions.

If you are looking for the cadillac of workout/meal tracking software, you need not look any further."

Robert Kruger
Fredericksburg, Virginia


---

"I have just taken a look at old data in my Weightmania database. I have been using it for just over two years. I have beaten a prediabetic diagnosis (no longer prediabetic!), went from borderline high blood pressure to daily perfect blood pressure. And I lost 90 pounds. What weightmania did for me basically was to keep me from getting discouraged based on subjective perceptions. Example. You feel you are not making progress, that you have been on a plateau forever. When you go back to DATA, objective measureable data, you are put right back on track. We have a very subjective relationship to time. Our motivation might fluctuate when we don't have the feeling there is progress. You got back to the DATA, and there it is. Each time the numbers told me I was right on track, not behind, not ahead, and that I just needed to be patient, that it takes time and effort to get where I needed to get. I needed to loose 135 pounds. I figured it would take me a little over three years (my nutrionnist and I have set a goal of no more then 3 pounds per four weeks, to not only loose it, but keep it off). I have not regained not one single pound. I went from a sedentary life and job to a daily commute to work by bike, to laps many times a week, but all things interwoven in my daily life. Not the 'let's make a big effort and get a gym subscription', and then drop everything once you reach your goal. This is a lifelong comitement to being healthy. It is in that perspective that Weightmania came in as a precious tool. Something to keep my cool in moments where I felt it was not working anymore. But the numbers, all the numbers, kept reminding me it was working JUST FINE. So, keep up the good work!"

Suzanne L.
Montréal, Canada


---

"It seemed that when I turned 45 I just could not outrun my appetite...After an internet search, I found Weightmania and started using it on December 1st. Now, one year later, I have lost 20 pounds, have my body fat down to about 8%, and I am in the best shape of my life. I found the data collection and display tools to be exactly the motivation I needed to get to my goals - and now, to keep me there - 6 months and counting. As I approach my one year Weightmania anniversary, I am so thankful that I found this product. Keep up the good work."

Jonathan P. Costa, Sr.
Litchfield, Connecticut


---

"Outstanding customer service! I'm writing to thank Greg for his wonderful attitude and wealth of knowledge about your product - and my phone! It was a pleasure working with him!"

Darien Rule
San Francisco, California


---

"Thank you, thank you, thank you...I will continue to recommend this software to everyone I know ;) The greatest customer service and that is hard to find these days! Here is to being 'fit' . God bless, Suzanne"

Suzanne Wick
Detroit, Michigan


---

"I'm recording all my workouts; I love looking at the calendar for the entire month and seeing all those blue blocks!! Every blue block represents 2 miles on the treadmill. And, by the way, for the first time I noticed something positive - my clothes are starting to fit better, and, I can run up two flights of stairs without being totally out of breath!..."

Elizabeth A.
High School English Teacher
Boston, Massachusetts


---

"Outstanding! Outstanding product. Feature rich. I was looking for something to track both calorie intake and workouts. This product does it all plus. Download the demo to get a taste. Records food intake, workouts, medical data like blood pressure and sleep hours. Allows one to track progress. Exactly what I was looking for."

Michael D. Wade Sr.
Columbus, Ohio


---

"Unbelievably Comprehensive! I just started using this software and I am stunned at how much I can track with it and how much I can customize the program to fit my own personal plan. Whatever you want to track, it IS possible. I have already recommended this software to several friends and will continue to recommend it for those interested in health and fitness. This is even BETTER than five stars!"

H. Husman
Minnesota


---

"I have never EVER received such a prompt and complete email from tech support/customer service, and I have not even purchased the software...I am definitely going to do a buy just because of the manner in which you have replied. I wish you all well with this undertaking, and believe that with a good product and this kind of customer relations you should thrive."

Stephen S., MD
Pittsburgh, Pennsylvania


---

"A great way to start taking control over your health...You can put your before-and-after pictures on it, track what you eat for weeks, track your workouts for weeks, and it shows you a percentage of carbs, fats and proteins you ate every day...This can help ANYONE with ANY health issue. Its extremely in-depth -- almost too in-depth and detailed!...Once you have entered a food once, the program remembers it. So you only have to enter it once and all you have to change is the portion or how much you ate...It does all the math for you!...If you have a personal journal you can write it, plus you can add a password so its totally private! And you can add the whole family or more on here!"

Nikki Halvorse
Pella, Iowa


---

"Nothing is more motivating than being able to show my clients their progress. Sometimes it's more than just weight. They could've lost body fat or a few inches off their waist. With Weightmania, it's easy to keep track of everything my clients do and even save some before and after photos. Thank you for a well thought out program."

Kevin Frost
Simply Fit Weight Management and Fitness Center, Canada


---

"This is a great program for tracking everything. Exercise programs, meal programs with breakdowns, medical etc...I am thrilled with the software."

Gail B.
South Barre, Massachusetts


---

"I have used this program for about three weeks and it continues to be as good as advertised and better. It is helpful in keeping my exercise and weight lifting records. But other features work very well. I keep track of my food intake,daily journal (with/ pictures) medical records for diabetes, blood pressure, even weather. I would recommend it to anyone."

Randy S.
pecatonica, Illinois


---

"This program is great; it is pretty much exactly what I was looking for and more so to help me keep track and stay on point with my diet and exercise. If you want to make a lifestyle change and have better health awareness. This is great to keep you on track."

Rhodora C.
San Francisco, California


---

"I am a 66 year old female, living in Whitefish, Montana. I have enjoyed the amazing flexibility and user friendly aspects of Weightmania Pro. When I began using it, I had a goal of finishing the Portland Marathon. Since I had not run a marathon in 20 years, and since I had moved from runner friendly San Diego to severe winter territory, I had many doubts about even finishing. Using all the features of Weightmania Pro, I succeeded far beyond my expectations. Not only did I finish the Portland Marathon, but I placed in my age category (5th in 2005 and 2nd in 2006). With Weightmania Pro I could track not only my varied running workouts but also my strength, cross training, and diet. Often these aspects of marathon preparation were changed because of weather conditions, injury, or work demands. No problem!! Weightmania Pro makes it easy to tailor your overall training and nutritional needs to the realities of training for any athletic event or personal goal."

Joanne P.
Whitefish, Montana


---

"This is by far the best software for anyone's fitness and nutritional needs. I have tried Bodyfit, Pro Track, Personal Trainer Workstation, etc. I think you get the idea. I wish I had the money back for those programs that they "hyped" up. I also appreciate the quick and friendly advice, feedback, and/or help I receive when I email a question or comment. The list could go on & on. Keep up the great work and hats off to you guys..."

Thomas Teal
Indianapolis, Indiana


---

"I just wanted to thank you for an awesome product. I have lost a total of 63 lbs in 6 Ĺ months with the help of your product; from 270 to 207. My waist went from a 44 to a 35.

Back in October, a new gym opened near us that my wife and I joined. I like to keep track of things, so I thought it would be nice to use a program to track my exercise activity. After a few trips to Google, I found your product and downloaded the trial. The install was simple and setting up my profile was just as easy.

Iíve used Weightmania daily now since I started back in October. The weightlifting program that Iím following has a daily routine that Iíve entered in Weightmania. So all I have to do now is select the workout for the day and I print it off and go to the gym. When I get back I enter in the amount of weight I lifted.

I also use Weightmania to track my running, swimming, and cycling activity. It works great; I like how I can keep track of my heart rate as well. So, I like to say one more time, thanks for an awesome product. It has literally changed my life."

John Childress
Texas


---

"Many thanks for the Weightmania programme, will be of great help in the training I do for various fire fighter competitions. As you can imagine my training and diet is very structured and this programme is a great tool to keep on top of it. Once again, thanks and I look forward to using the weightmania programme for years to come..."

CPL B. Hannam
Military Fire Fighter
New Zealand


---

"I am very pleased with Weightmania as it has helped me keep track of all kinds of things relating to weight loss and beyond. It is an ideal program to track exercise, weight lifting, and cardiovascular workouts along with nutrition and diet. It has a calendar to let me chart my exercise routines, charts to let me physically see my progress, a log book, a place to keep my measurements, and all kinds of other feature that are unique. I like it because it helps me keep organized and on track. I don't have to worry how much of one nutrient or another that I have consumed, as it it right there at a click of the mouse. I would highly recommend this to anyone seeking a program that is interested in being able to see for themselves the progress they can make while embarking on any kind of either weight loss or exercise regime..."

Jonann Ford
Kansas City, Kansas


---

"Edward A. Greenwood, Inc. is by far is the best online company in providing immediate customer service. All emails I sent to the customer service center were responded to faster than any other company I've ever worked with!! Additionally, each of my questions was attended to with thorough explanations, preventing me from having to go through the hassle of trying to contact the company a second time! Edward A. Greenwood, Inc. is definitely unique among the online community, and I am very satisfied with their customer support..."

Kaliko H.
Hawaii


---

"You guys have a great company. Your customer service is fantastic and like no other. I want to wish your company success and growth."

Angel Lopez
Los Angeles, California